27th December
Sand Point: 3 Purple Sandpiper
19th October
Sand Point: Yellow-browed Warbler (P.Gregory)
15th to 23rd September - Sand Point: Red-backed Shrike (A.Hockey)
6th June
Sand Point: Narrow-bordered Bee Hawk-moth nectaring on Valerian on south slope for at least 2 hours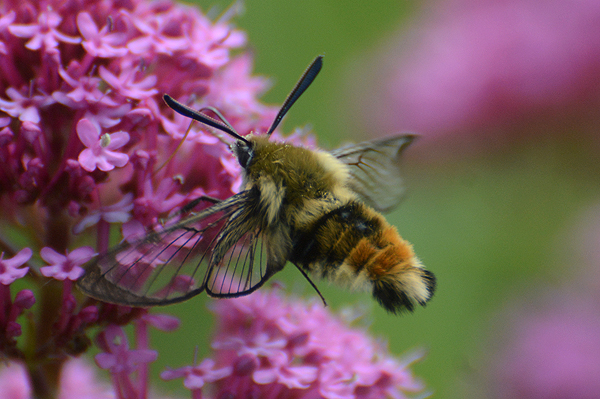 Narrow-bordered Bee Hawk-moth Sand Point 6th June 2014
2nd June
Sand Point : Greenish Warbler singing 50 yards east of the trig point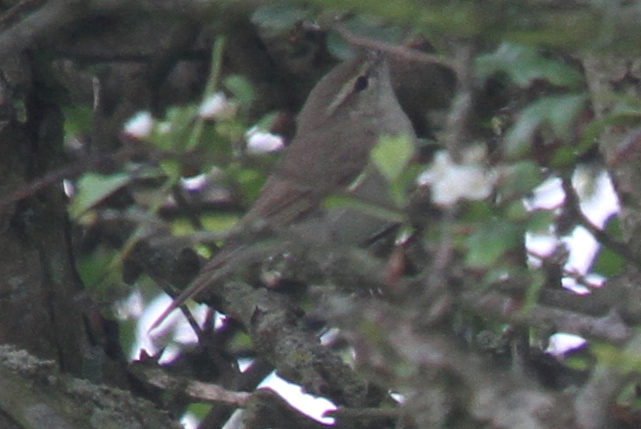 Greenish Warbler Sand Point 2nd June 2014 Copyright Dave Nevitt
31st May
Sand Point : grasshopper warbler new in plus painted lady, diamond-back moth and silver y
30th May
Worle: Red Kite just over the house Moor lane, Worle being mobbed by gulls (A.Hockey)
Sand Point vismig: spot fly, siskin, 2 swift, 4 house martin, 4 swallow. Cuckoo still.
Sand Bay : whimbrel, barwit, 6 curlew, 6 oyc over high tide
27th May
Sand Bay : 12 sanderling, 4 dunlin, ringed plover, greenshank and BHG
19th May
Sand Point migrants: Turtle Dove, 7 Spotted Flycatcher, 3 Tree Pipit, Flava, 2 Siskin, 2 Garden Warbler, Sedge Warbler, 2 Swift, 7 Swallow, 1 Willow Warbler, 1 Reed Warbler, 9 Goldfinch, 4 Linnet, 1 Reed Warbler, 1alba Wagtail, Grey Wagtail
Sand Bay: 2 Avocet, 24 Black-headed Gull
16th May
All per A.Hockey: Uphill & the STW earlier, 2 Cuckoo, 4 Spotted flycatcher, 1 Wheatear, 1 Garden Warbler, 3 Cettis, 9 Whitethroat, 2 CC, 5 Swift
Sand Point vismig: 3 Tree Pipit, 2 Flava, 1 Redpoll, 5 Swallow, 1 House Martin, 1 Grey Wag, 1 alba wag, 2 R.Plover
Sand Bay: 2 Dunlin, 1 Ringed Plover, 4 Whimbrel, 7 Curlew, 1 Black-headed Gull
15th May
Sand Point: 1 Wood Warbler, 15 Spotted Flycatcher
14th May
Sand Point: Redstart, 2 Cuckoo, 2 Tree Pipit, 16 Commic Tern
13th May
Sand Point: 40 Commic Tern
12th May
Sand Point: 1 Whinchat, 22 Commic Tern
11th May
Sand Point per F.Steuck: Storm Petrel (F.Steuck, D.Reeves), Little Gull (D.Reeves), 2 Pomarine Skuas, 5 Skua sp, Bonxie, Little Tern, 28 Arctic Tern, 180 Commic, 4 Gannet, 7 Kittiwakes, 2 Fulmar
Sand Bay : barwit, 8 whimbrel, 2 curlew, 300 dunlin, 40 ringed plover this evening
Middle Hope: 1 Little Tern (evening)
Anchor Head: 1 Long-tailed Skua and per D.Nevitt: 7 pomarine Skua up river 12:40. 2 Bonxie, 2 little Tern, 15 Arctic Tern and 2 Common tern downriver
10th May
Sand Point: 2 Pomarine Skua up river (9:30am and 11:25am) both with distinctive spoons, 4 Tree Pipit, Great Skua, 2 Gannet
9th May
Anchor Head : 4 pomarine skua up river. Also 5 fulmar and 6 gannet
7th May
Anchor Hd 12:20-13:10pm: 1 Whimbrel up, 2 Arctic Tern down, 30 Swallow, 45 LBBG, 2 Arctic Skua dp&lp + 5 Pomarine Skua
Sand Point 8-10am: 2 Fulmar, 3 Kittiwake, 4 Gannet, 13 Swift
6th May
Sand Point : 21 Arctic tern, 6 common tern, 20 commic, 8 gannet, 180 swallow, 10 h.mart
5th May
Sand Point: 2 Garden Warbler, 5 Wheatear, 3 flava, 3 Tree Pipit, 800 Swallow, 30 House Martin, 20 Sand Martin, 10 Swift, 29 Whimbrel, 8 Sanderling, 6 Dunlin, 3 Ringed Plover
4th May
Weston STW: 1 Glossy Ibis
Sand Point : cuckoo, 2 yellow wag, 2 tree pipit, 7 wheatear, sedge warbler, 4 lesser whitethroat, 4 Willow Warbler, siskin, redpoll, grey wag, 30 swallow
27th April
Weston Beach: Wood Warbler, Yellow Wagtail (A.Slade)
26th April
Anchor Head in 1 hour: 5 Mute Swan, 1 Fulmar, 2 Tree Pipit, 1 Grey Wagtail, 1 alba wagtail, 1 Common Gull, 3 Black-headed Gull
24th April
Sand Point: Goosander, 3 CommonScoter, 3 Wheatear, Yellow Wagtail and a Common Sandpiper
22nd April
Middle Hope: Cuckoo
Milton: Pine Beauty, 2 Brindled Beauty, Esperia sulphurella, Caloptilia syringella, Streamer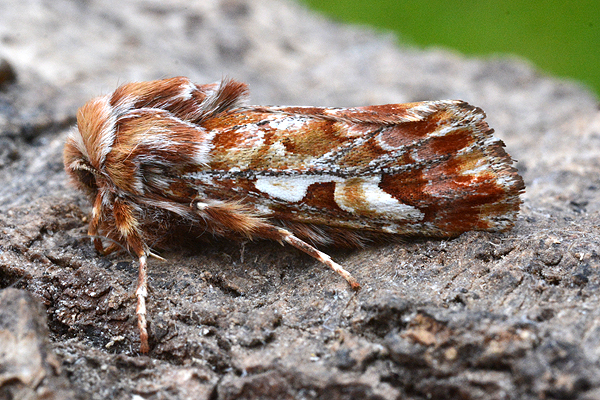 Pine Beauty Panolis flammea Milton 22nd April 2014
21st April
Sand Point: 1 diver sp, 4 skua sp, 2 BH Gull, 3 Common Gull, 11 Sand Martin, 247 Swallow, 2 House Martin, 20 Chiffchaff, 30 Willow Warbler, 15 Blackcap, 1 Garden Warbler, 3 Lesser Whitethroat, 10 Whitethroat, 7 Grasshopper Warbler, 2 Sedge Warbler, 2 Reed Warbler, 4 Redstart, 7 Wheatear, 13 Yellow Wagtail, 7 Meadow Pipit, 14 Tree Pipit, 1 Brambling, 2 Siskin, 1 Redpoll.
16th April
Sand Point: 3 Ring Ouzel, 11 Tree Pipit, 2 Redstart, Yellow Wagtail, Gannet, 10 Whimbrel, 15 Wheatear, 6 Whitethroat, 1 Lesser Whitethroat, 10 Swallow, 8 Redpoll
15th April
Sand Point: 3 Yellow Wagtail, 3 Grasshopper Warbler, 4 Tree Pipit, 3 Redstart, 20 Willow Warbler, 15 Chiffchaff, 15 Blackcap, Whitethroat, Lesser Whitethroat, 7 whimbrel, Wheatear, 6 Redpoll, 2 House Martin Sand Martin, 20 Swallow, 3 Bar-tailed Godwit
14th April
Sand Bay: 6 Whimbrel, 1 Little Ringed Plover, 3 Bar-tailed Godwit, 1 Dunlin. Big drop in Curlew and Oystercatcher nos in last few days.
11th April
Sand Point: Grasshopper Warbler, Brambling, 2 Tree Pipit, 3 Siskin, 8 Redpoll, 15 Chiffchaff, 20 Willow Warbler, 20 Blackcap, 7 Wheatear, 100 Sand Martin, 6 House Martin, 30 Swallow, Redstart, Lesser Whitethroat, Common Scoter
10th April
Sand Point combined rpts: Hawfinch, 2 Grasshopper Warbler, 2 Tree Pipit, 30 Willow Warbler, 15 Chiffchaff, 15 Blackcap, Mistle Thrush, Redstart, 4 Wheatear, 54 Sand Martin, 6 Swallow, Redpoll, Siskin, 20 Goldfinch
9th April
Weston STW: Glossy Ibis
8th April
Anchor Head in 3hrs: 3 Common Tern, 2 Tern sp, 5 Fulmar, 1 Red-throated Diver, 2 Swallow, 20 Goldfinch, 5 Mipit, 15 Common Gull, 4 Cormorant
7th April
Anchor Head 4-5pm: 35 gannet (20N,15W), 8 kittiwake down, 1 commic tern up and a dp Arctic Skua up @ 16:45
4th April
Sand Point : Arctic Skua up river (A.Hockey), Tree Pipit, 2 sandwich tern up and a raft of 45+ common scoter on sea
Milton: Tawny Pinion
3rd April
Sand Point : Arctic Skua up river and 4 Common Scoter down
Milton: Oak Beauty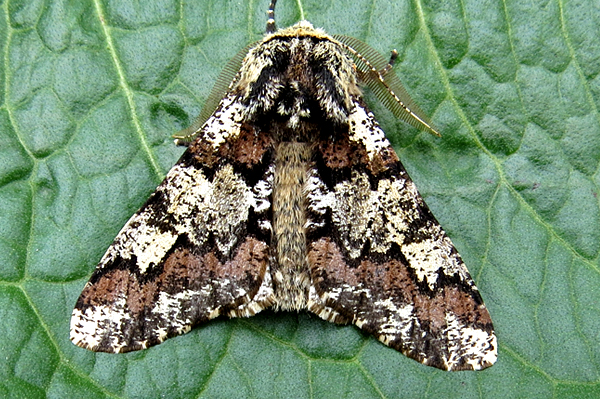 Oak Beauty Hypomecis roboraria Milton 3rd April
31st March
Middle Hope: Ring Ouzel, Black-tailed Godwit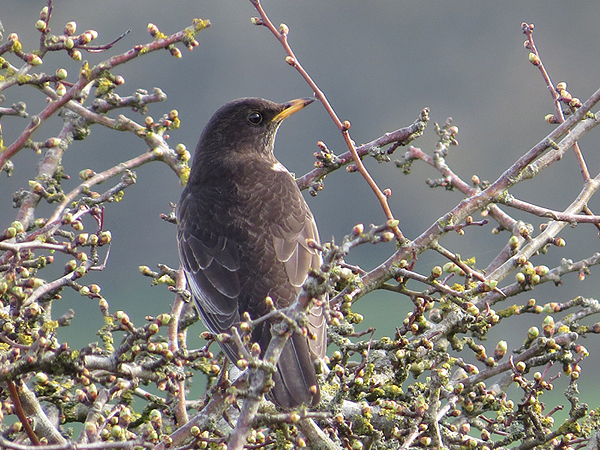 Ring Ouzel Turdus torquatus Middle Hope 31st March 2014
30th March
Middle Hope: 4 Whooper Swan (2 ad, 1 imm)
Milton: 1 Tawny Pinion, 1 Oak Nycteoline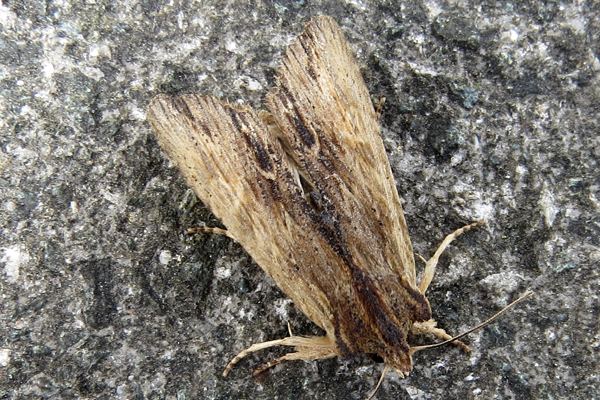 Tawny Pinion Lithophane semibrunnea 29th March 2014
29th March
Middle Hope: 11 Wheatear, 9+ Bar-tailed Godwit, 3 Willow Warbler, 9 Chiffchaff, 6 Sand Martin, 3 Swallow, 2 Willow Warbler
26th March
Sand Bay/Point: Firecrest, 188 Meadow Pipit, 12 Alba Wag, Redpoll, 6 Wheatear, 8 Chiffchaff, 2 Blackcap, 4 Siskin, Brambling
21st March
Middle Hope: 3 Bar-tailed Godwit flew east with 37 Curlew and landed in Sand Bay
20th March
Middle Hope: 1 Sand Martin, 4 Gannet
19th March
Anchor Head: 70 Kittiwake
18th March
Anchor Head: 50 Kittiwake, 1 Fulmar, 3 Gannet
17th March
Middle Hope: 3 Sand Martin, 342 Meadow Pipit, 20 alba wagtail
Sand Point: 4 Purple Sandpiper
Woodspring Bay: 2 Pintail
15th March
Sand Point: 5 Gannet, 1 Fulmar, 4 Common Scoter.
Marine Lake: male Black Redstart still (per P.Gregory)
Milton: 1 Woodcock heading East at 19:35hrs from moonscoping. Also 1 Fieldfare, 1 high NE and 2 V.High ESE.
12th March
Sand Point: 2 Pintail north and then returned and spent the rest of the day in Sand Bay.
11th March
Weston: Red Kite over at 11:55am (Rob Purveur)
Sand Bay: 1 Great Crested Grebe and 2 Mediterranean Gulls
10th March
Middle Hope: 1 male Wheatear, 9 Common Scoter on sea.
Sand Point: 1 male Wheatear and a Chiffchaff (A.Hockey)
7th March
Weston: Male Black Redstart in garden in Swiss Road (Peter Hawkins)
Axe Estuary: 3 Avocet (M.Sage)
6th March
Sand Point: 1st Chiffchaff of the year early AM only in song + 2 Stock Dove, 79 Meadow Pipit, 3 Stonechat, 2 Grey Wagtail, 311 Lesser-black Backed Gull, 12 alba wagtail, 5 Siskin, 9 Raven
2nd March
Sand Bay: Mediterranean Gull and Jack Snipe at high tide + 5 Stonechat and 9 Ravens over Middle Hope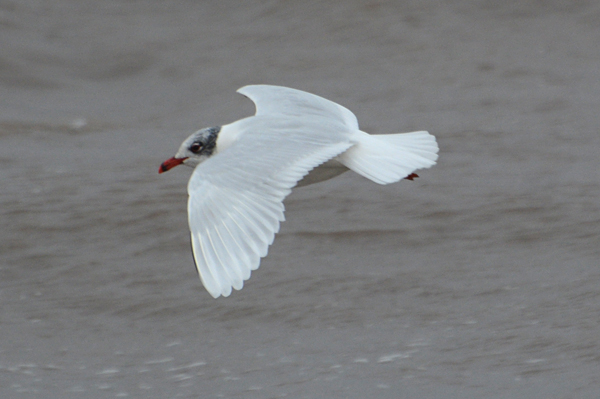 Mediterranean Gull Larus melanocephalus Sand Bay 2nd March 2014
28th February
Sand Point: 2 Dartford Warbler (adult + imm) and a dead decapitated auk sp presumed Guillemot.
27th February
Sand Point: A quieter morning with 2 Common Scoter down river, 12 Raven and 800 Dunlin up river (first northbound movement)
26th February
Sand Point vismig: 51 Meadow Pipit, 3 Siskin, 5 Stock Dove, 1 Brambling, 37 Chaffinch
25th February
Anchor Head: Male Black Redstart still in Madeira Cove this morning and occasionally busting into fragments of song. Per B.Blake
24th February
Sand Point: mini fall of 13 Stonechat plus 2 Common Scoter, Yellowhammer, 4 Purple Sandpiper and an adult Mediterranean Gull in the bay.
21st February
Sand Point: Razorbill perched on rocks at the point.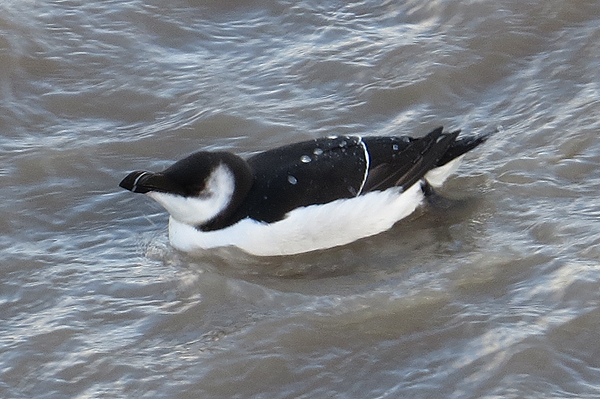 Razorbill Alca torda Sand Point 21st February 2014
16th February
Sand Point: Great Skua down river
Axe Estuary: Red-breasted Merganser per B.Blake
Sand Bay: Dead Puffin on tideline (M.Plenty)
15th February
Sand Point: Long-tailed Duck south past the end of the point plus 3 kittiwake, 600 dunlin, 35 grey plover and a Ruff
29th January
Sand Point: 4 Purple Sand still at the point
28th January
Plumley Park: 1 Jack Snipe (A.Hockey)
24th January
Sand Point : 3+ Purple Sandpiper still at the end of the point.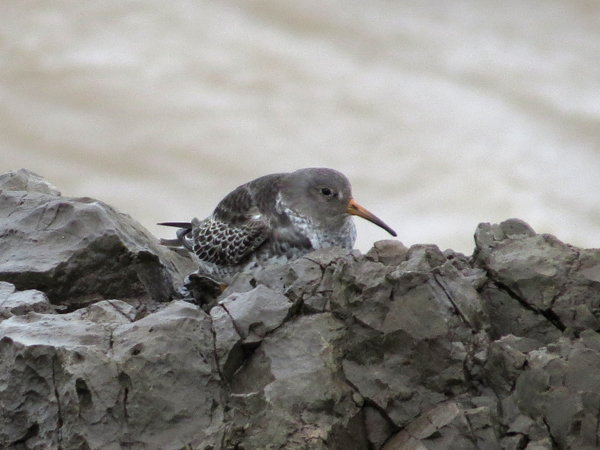 Purple Sandpiper Calidris maritima Sand Point 24th January 2014
22nd January
Sand Point: near adult YLGull lingered briefly off shore then flew NW
Banwell Estuary: Adult winter Mediterranean Gull
20th January
Sand Point: 1 Guillemot close in at the point, 1 Grey Seal, 64 Golden Plover south.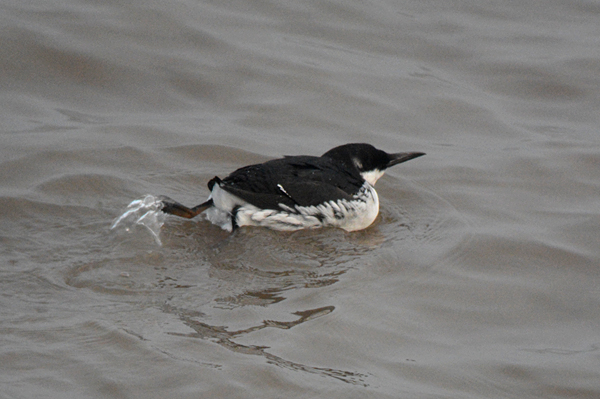 Common Guillemot Uria aalge Sand Point 20th January 2014
19th January
Sand Point: Shag still present and later relocating to Middle Hope. Red-throated Diver up river
18th January
Sand Point : Shag feeding close in shore at the point then flew and landed close off Middle Hope. Vismig: 135 Dunlin, 35 Curlew, 9 Great Black-backed Gulls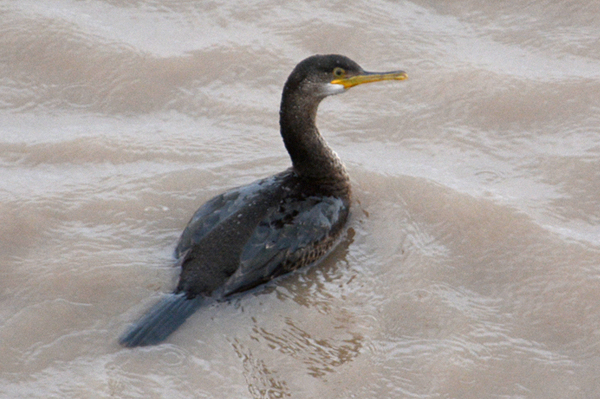 Shag Phalacrocorax aristotelis Sand Point 18th January 2014
15th January 2014
Anchor Head : male Black Redstart by Anchor Head Hotel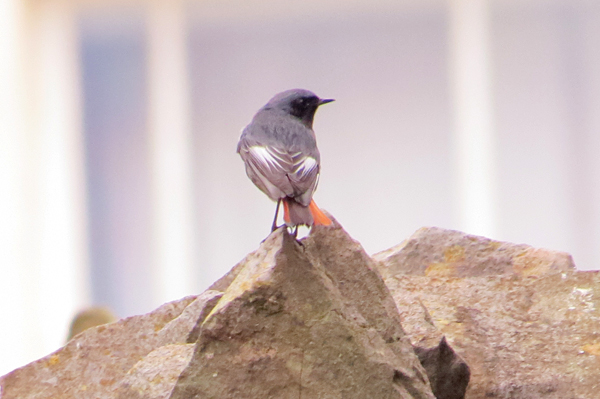 Black Redstart Phoenicurus ochruros Anchor Head 15th January 2014
11th January
Sand Point vismig in 1.75hrs: 1 Red-throated Diver, 337 Black-headed Gull, 4 Kittiwake, 74 Common Gull, 5 Great Black-backed Gull, 1 Grey Plover. Dartford Warbler still at the point.
9th January
Sand Point: 1 Guillemot down river
8th January
Banwell Estuary: 1 adult winter Mediterranean Gull
5th January
Sand Point : 4 Purple Sandpiper roosting at the very tip of the point at high tide
Sand Bay per P.Gregory: 4 Jack Snipe, 1 Water Rail and 2 Water Pipits over high tide.
4th January
Sand Point : 2 Purple Sandpiper roosting at the very tip of the point
Sand Bay: 3 water rail pushed out of the Marsh on this mornings high tide
3rd January
Sand Point: 14 Kittiwakes past the point were the only sea birds this morning.
2nd January
Sand Point: Dartford Warbler
Sand Bay: 8 common snipe, Jack snipe, 25 rock pipit and a water pipit pushed out of the Marsh on this mornings tide