31st December
At Weston STW the Bewick's Swan still present behind Warren Farm and a Greylag flew in from the east and landed with the swans.
30th December
A dull day from the heavy cloud with a 7mph WSW. Temperature 8 degrees.
At Brean the Black Redstart was relocated around the caravans adjacent to the car park. On the down 2 Stonechat, 2 Bullfinch and 10 Redwing. A flock of 200 Teal flew distantly around Weston bay. At Weston STW 2 more Stonechat found on the Axe bank whilst further up river 4 Goosander were found. Purple Sandpiper count at Anchor Head now at 5
29th December
Strong overnight westerly winds soon died down early morning averaging 22mph then dropping to 16mph.
A brief visit to Sand Point produced small vismig counts involving 45 Dunlin, 70 Black-headed Gulls, 50 Herring Gulls, 3 Common Gulls, 2 Curlew and 3 Lesser Black-backed Gulls heading west. Heading east were 25 Shelduck.
27th December
High pressure building over the southern half of the UK forming mid-level layered cloud and a light 7mph southerly wind. Temperatures a mild 11 degrees. Along the river Axe 2 Green Sandpipers and 2 female Goosanders. Overhead a notable west and south passage of gulls included 600 Herring, 150 Common, 2 Lesser Black-backed and 300 Black-headed. A single Snipe seen flying high south-west. Redwings also recorded heading south in small groups.
24th December
Winds over the last week have been mainly westerly bringing mild temperatures with frequent fronts. On wednesday night an arrival of Redwings noted with a count of 100 around Milton alone. Big numbers of Black-headed Gulls seen passing through from the east. Today a Woodcock flushed from fields in the Brean area, a Black Redstart at the fort and at least 15 Golden Plover amongst 900 Lapwing. At Weston STW still 300 stock dove, 1 Brambling, 80 Pochard. The Bewick's was still with 55 Mute Swan. Last weekends Fieldfares have moved on after stripping the hawthorn bushes. Black Redstart at Anchor Hd this afternoon.
17th/18th December
Bleadon level is attracting good numbers of birds moving through the country. Most notable being Fieldfare and Stock Dove. With the Fieldfare are much smaller numbers of Redwings and Blackbirds. Stock Dove numbers an impressive 300 with just a few Woodpigeons amongst them. Numbers seem down on Chaffinch, Reed Bunting and Skylark but this could all change with a cold snap. 1-3 Water Pipits recorded yesterday on the Axe whilst the fields behind Warren Farm still holding 50ish Swans. Viewing was a bit more difficult so I couldn't tell if the Bewick's Swan was still present. The Bean Goose seen briefly in flight and the regular Barn Owl put in an appearance at dusk.
13th December
Sand Point sea watch failed to produce anything of interest this morning. Birds on the move during a 45 minute count included 15 Kittiwake, 20 Common Gull, 25 Shelduck, 2 Great Black-backed Gulls, 10 Black-headed Gulls, 20 Dunlin.
10th December
A clear night with a full moon and reduced winds. Vismig at Sand Point produced no sea birds making their way back down the channel. Total birds on the move included 20 Curlew, 22 Shelduck, 20 Linnet, 11 Goldfinch, 7 Rock Pipit, 2 Teal, 8 Meadow Pipit. Weston STW held some good birds starting with 3 Short-eared Owls (A.Hockey). A juvenile Bewick's Swan (M.Ponsford) was with 50 Mutes and a Bean Goose (M.Ponsford) gave distant scope views. The Ring-necked Duck was still present.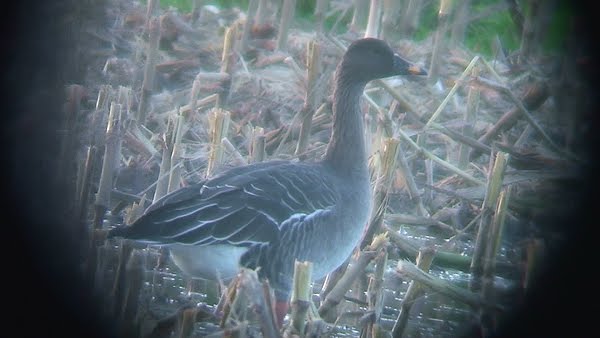 Tundra Bean Goose
7th December
Strong winds overnight from midnight onwards. By morning the direction was consistently north-westerly at Sand Point. Movement was fair but the lack of sea bird variety was noticeable. Recorded this morning were 46 Kittiwake involving birds moving both up and down channel. Heading down were 2 Black-headed Gull, 126 Shelduck, 8 Curlew and 50 Dunlin. 20 Common Gulls counted moving in both directions. Totals: 269 individuals, 9 species, 2:10 hours
Weston STW both the Greylag and Ring-necked Duck still present.
6th December
All per B.Blake - The Ring-necked Duck still present at Weston STW along with Merlin and 2 Grey Geese considered to be either Bean or Pink-footed.
5th December
Up until the first day of winter at the beginning of the month the lows coming across the Atlantic have been hitting central Europe bringing warmer southerly winds to the UK but recently we've had winds from a cold polar airmass hanging between the UK and Iceland. A half hour sea watch this morning produced 17 Kittiwakes flying up river close in in small parties. 200 Dunlin went down river distantly and a trickle of Common and Black-headed Gulls through. The 1st winter drake Ring-necked Duck remains at the sewage works for it's 3rd day.
4th December
A 1st winter drake Ring-necked Duck was found yesterday at Weston STW along with Greylag. Both were still present today.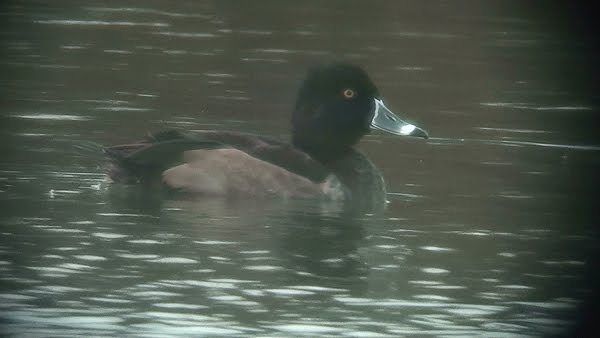 1st winter drake Ring-necked Duck
3rd December
West and WSW winds overnight that had already dropped by first light. Three fronts went through overnight raising temperatures to 11 degrees.
Sand Point to intercept any birds blown up the channel making their way back down started off quite bleak. From 8:15 to 9:15 no sea birds just 5 Shelduck, 5 Curlew and 2 Black-headed Gulls. Then a single flock of 96 Kittiwake flew down channel about mid-channel. They then started spiralling upwards to a height of around 100M and headed off north-west towards the Welsh coast. A single Guillemot came out with the Kittiwakes but continued following the coastline heading south after passing the point. 2 more Kittwakes casually made their way down river some time later one of which was half heartedly pursued by a Merlin. The Merlin continued towards the Welsh coast. It would now seem that Merlins are quite happy flying back and forth across the estuary to hunt on both sides. Totals for the morning: 30 Black-headed Gull, 6 Shelduck, 6 Curlew, 98 Kittiwake and a Guillemot.
Garden moth trap: my first garden record of Scarce Umber.
29th November
Low pressure over the south-west keeping temperatures up to an unseasonal high of 14 degrees over night. A front went through before dusk on 28th after that it remained cloudy and dry. In the morning strong SSW winds with some light rain.
Mothing last night produced Dark Sword-grass, Plutella xylostella, Large Yellow Underwing, 7 Silver Y and 7 Udea ferrugalis. Also a Waved Umber, December Moth, 7 Winter Moth, Cypress Carpet and Angle Shades.
No sea birds recorded in a brief sea watch early morning but 280 Dunlin and 3 Grey Plover went through.
27th November
Strong over night winds initially SSW changing to Westerly by morning. Winds died down quite considerably between 8:30am and 9:30am.
Sand Point a Great Northern Diver flew down channel close in as I was arriving at the Point. Heading down channel: 95 Dunlin, 55 Shelduck, 7 Common Gull, 20 Black-headed Gull and 25 Curlew. Also of note a Skua sp harassing a Gull mid channel and a female type Merlin in/off the sea from the North-west flew straight through. Herring and Lesser Black-backed Gulls moving in all directions but didn't give the impression of migrating so not counted. Mothing not over quite yet.
An hours trapping on Brean Down last night yielded Silver Y and Feathered Thorn. A migrant in December could still be on the cards.
26th November
Windy conditions today from the successive Atlantic lows. The associating fronts generally quite weak as they reach the south-west. This morning at Brean a Short-eared Owl on the Axe Estuary was my first patch record since May 2008. Also on the Axe 60 Curlew, a unusually high count of 10 Cormorant, 13 Wigeon and 80 Teal. A mass departure of birds since last Sunday left the Down virtually birdless, just a couple of Blackbirds and a Robin left. By the farm a Blackcap and Chiffchaff heard and a female Black Redstart in the Cove made up the passerine highlights. Checking a couple of stubble fields on the way back produced good numbers of Pied Wagtails and smaller numbers of Meadow Pipits. One field held 240 Lapwing.
25th November
An Atlantic low pressure system to the north starting to dominate over yesterdays high with mid level layer cloud building and winds picking up to 13mph SSW. Temperatures set to stay in double figures for the rest of the day and night. There was virtually no vismig at all this morning and would have been none at all had it not been for 3 Curlew down channel at Sand Point. Very few birds on the ground. A Goldcrest, Bullfinch and Chiffchaff were the only migrants. A micro caught on 21st that I forgot about until yesterday turned out to be Weston's first Acleris sparsana. There is a lot of Beech in Weston Woods suggesting this species is quite likely to have been overlooked.
20th November
A foggy morning with a light ESE wind feeling quite warm with temperatures around 11 degrees.
First bird news came from Weston STW when the Bittern was re-found early morning making at least it's third day. A juvenile Swallow was on wires by the Brean Down Inn pub is my latest record for this species. On the Down the only vismig involved 4 Rock Pipits south. Grounded migrants were in good supply with many Blackbirds possibly numbering 80 birds with much smaller numbers of Song Thrush and Redwing. Robins were also plentiful with 40-50 birds present easily outnumbering the summering numbers. Bullfinch numbers were well above average with at least six seen. A Turnstone was heard at the fort whilst at the back of the down the Axe Estuary held 1000 Dunlin, 10 Ringed Plover, 1 Bar-tailed Godwit, 6 Black-tailed Godwit, 2 Grey Plover, 20 Lapwing, 150 Redshank. The long staying Wheatear could not be relocated but the Chiffchaff was still present calling regularly. A visit to Anchor Head drew a blank with Purple Sandpiper.
18th November
Weather: Southerly wind with some light rain around mid-night. Temperatures hovering around 12.5 degrees C. Sunset currently around 16:18hrs.
Brean Down. Single 125W MV ran between 11:40pm and 2:40am: 1 Pearly Underwing, 5 Silver Y, 6 Rusty Dot Pearl, 1 Rush Veneer, 3 Dark Sword-grass, 3 Turnip. Non-migrants included E.postvittana, Brick, Black Rustic, Angle Shades, Feathered Thorn, Yellow-line Quaker, Mottled Umber, November Moth and a Chestnut sp that avoided capture. 15 species in total
3rd November
Weather: Brisk South-easterly wind with rain (sometimes heavy) between 12:30am and 1:30am moving northwards. Temperatures between 14 and 15 degrees. Brean Down: Moths coming in on the leading edge of the front and the trailing with nothing in between: 5 Silver Y, 5 Dark Sword-grass, 1 Gem, 2 Large Yellow Underwing, 1 RDP. A late Brimstone moth caught.
Garden moth trap: 1 Lesser Yellow Underwing, 1 Large Yellow Underwing and a RDP
31st October
Weather: Another warm night with temperatures consistently around 15 degrees. With constant cloud cover I'm guessing a trough going through would be undetected on the thermometer. The southerly winds seemed light to moderate extending all the way into France.
Brean Down: 2 The Gem, 2 Pearly Underwing, 2 Dark Sword-grass, 4 Silver Y , 3 Large Yellow Underwing and double figures of Udea ferrugalis. Surprise of the night was Chinese Character.
30th October
Weather: A warm night hovering around 14.5 degrees, partly cloudy and a consistent 8mph SSW wind. Last nights sun set time: 16:38hrs
Brean Down: 17 Silver Y, 1 Scarce Bordered Straw, 1 Gem, 2 Pearly Underwing, 11 Udea ferrugalis, 2 Large Yellow Underwing, 1 Lesser Yellow Underwing. 16 of the 17 Silver Y came in before 1:30am and the RDP's came in throughout the night. All the other migrants including the underwings came in between 1:30am and 3:30am.
29th October
Weather: A cold clear night down to 6 degrees, little wind until the early hours of the when light southerlies turned into 10mph southerlies by late morning at which time a tip of an occlusion went through bringing some rain for a period. A slight raise in temperatures between 2:30am and 3am suggested a weak front/trough went through which produced nothing in the garden traps.
Brean Down: 2 Wheatear, 10 Siskin, 5 Redpoll, 15 Skylark, 40 Chaffinch, 3 Bullfinch, 5 Pied Wagtail made up the migrant tally. 5 Red Admiral, 1 Migrant Hawker also seen.
Weston STW: Arrivals noted of 10+ Rock Pipit, 100 Lapwing, 6 Golden Plover. A Merlin, Spotted Redshank and a Spoonbill all on the Axe.
Sand Point: 1 Yellowhammer
23rd October
Brean Down moths: A very interesting night on the down with a few migrant stragglers in until 1:30am. It all went quiet as the temperature dropped until 3am when a weak front came through lifting temperature and then the main arrival of migrants started spiraling down from the sky. 1 Cosmopolitan, 1 Gem, 1 Mecyna asinalis, 15 Udea ferrugalis, 6 Pearly Underwing, 4 Dark Sword-grass, 4 Silver Y. Other highlights Dusky-lemon Sallow and Crescent Dart.
22nd October
Brean Down: A small amount of passage noted. 15 Redpoll, 10 Siskin, 2 Crossbill, 20 Meadow Pipit, 40 Chaffinch, 10 Greenfinch, 20 Goldfinch. Also recorded 1 Ring Ouzel, 2 Merlin, 1 Black Redstart, 1 Wheatear, 1 Chiffchaff.
20th October
Sand Point 8:05 - 8:50: 3 Mistle Thrush, 1 Yellowhammer, 6 Reed Bunting, 265 Chaffinch, 72 Greenfinch, 2 Siskin, 2 Lesser Black-backed Gull, 2 Crossbill, 9 Skylark, 138 Woodpigeon, 3 Goldfinch, 183 Starling, 2 Curlew, 7 Redpoll, 1 Song Thrush, 1 Stock Dove, 2 Brambling, 1 Redwing, 1 Pied Wagtail, 1 Linnet. 702 birds, 20 species
19th October
Sand Point: Vis mig from 7:45am to 8:30am all heading west 695 Chaffinch, 565 Starling, 5 Redpoll, 3 Siskin, 4 Meadow Pipit, 3 Brambling, 12 Goldfinch, 29 Greenfinch, 8 Woodpigeon, 7 Redwing, 1 Redshank, 2 Great Black-back Gulls, 2 Reed Bunting, 9 Lesser Black-back Gulls, 1 Pied Wagtail, 11 Fieldfare, 1 Skylark. 1358 birds, 17 species
16th October
Sand Point: Per P.Gregory: 07:00-11:00. All passage due west along the Point: Chaffinch 1340, Starling 1430, Meadow Pipit 53, Linnet 17, Siskin 21, Greenfinch 7, Crossbill 3, redpoll 4, Goldfinch 26, Brambling 2, Pied Wagtail 2, Reed Bunting 2, Skylark 13, Greylag Goose 2, Grey Heron 1, Golden Plover 25, Shelduck 44 up river at height in small groups Other stuff around: Peregrine 1, Wheatear 1, Chiffchaff 3, Little Egret 1, Bar-tailed Godwit 1
Brean Down: 1 Yellowhammer, 100 Siskin, 100 Goldfinch, 60 Chaffinch, 10 Redpoll. An influx of Blackbirds and Robins at the back of the down. There were a lot of Robins around yesterday also.
15th October
Brean Down: Brean Down: 6 Crossbill, 200 Goldfinch, 1 Swallow, 50 Starling, 20 Linnet, 3 Wheatear, 10 Redpoll, 20 Siskin, 5 Skylark. On the lepidoptera front 30 Red Admirals, 1 Wall Brown, 1 Peacock, 1 Small Tortoiseshell, 2 Speckled Wood and a Silver Y.
14th October
Brean Down: Little evidence of last nights migrant activity this morning instead a good passage off the Welsh coast was noted. 1 Ring Ouzel, 4 Mistle Thrush, 20 Redwing, 10 Skylark, 25 Redpoll, 60 Siskin, 4 Crossbill, 300 Chaffinch, 150 Linnet, 1,200 Goldfinch, 100 Meadow Pipit, 15 Pied Wagtail, 900 Swallow, 500 House Martin, 2 Song Thrush, 5 Reed Bunting, 2 Brambling, 5 Greenfinch. On the moth front 30 Udea ferrugalis, 7 Silver Y, Dusky-lemon Sallow and 3 Pearly Underwing. 1 Merveille du Jour could also have been a migrant. 2 Red Admirals seen during the morning.
Sand Point: Per A.Hockey: 3 Mistle Thrush, 6 Redwing, c.50 Fieldfare, 5 Swallows, 5 Wheatear inc a possible Greenland, 30+ Meadow Pipit, 8 Skylark, 3 Chiffchaff, 1 Blackcap, 5+ Goldcrest + a good number of other birds on the move in/off the sea from the North-west.
13th October
Brean Down: 15 Udea ferrugalis, 5 Silver Y, 1 Pearly Underwing and 2 Red Admirals. Also Crocidosema plebejana
12th October
Brean Down: 1 Pearly Underwing, 5 Silver Y, 12 Udea ferrugalis, 2 Red Admiral and Redwing heard calling overhead.
6th October
Sand Point: 2 Figure of Eight
4th October
Garden: Vestal
3rd October
3 Vestal, 2 Dark Sword-grass, 1 Pearly Underwing, 1 Scarce Bordered Straw, 15 Rusty Dot Pearl, 5 Silver Y
2nd October
Sand Point: Wryneck (P.Gregory)
1st October
Brean Down: 1 Delicate, 5 Udea ferrugalis, 2 Silver Y
Weston: Dewick's Plusia D.Agassiz garden
30th September
2 Scarce Bordered Straw, 3 Pearly Underwing, 12 Rusty Dot Pearl, 7 Silver Y
28th September
Brean Down: White-point, 1 Redwing
25th September
Garden: Four-spotted Footman
24th September
Brean Down: 1 Convolvulus Hawk-moth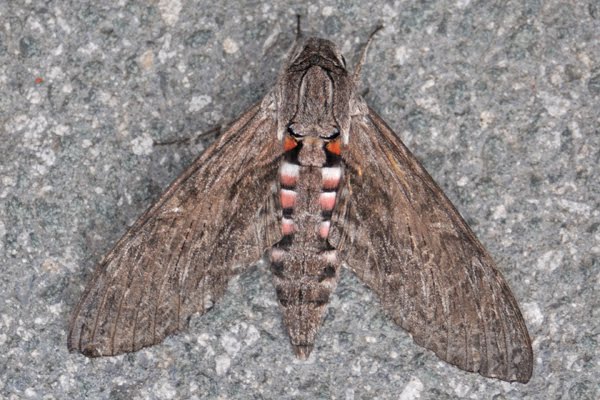 Convolvulus Hawk-moth
23rd September
D.Agassiz Garden: Palpita vitrealis
17th September
Milton: 1 Tree Pipit south over garden at first light and a Greenshank over just after dark on 15th
Sand Bay/Point: 1 Curlew Sandpiper, 1 Sanderling, 30 Ringed Plover, 50 Dunlin, 8 Knot, 4 Sand Martin, 1 Whitethroat, 10 Chiffchaff
Weston STW: An impressive 10,000 Swallow south-east, 1 Mediterranean Gull, 9 Wigeon and a Black Tern

16th September
Brean Down: 500 Meadow Pipit (mainly ground with some heading west), 1 Whitethroat, 1 Grasshopper Warbler, 15 Chiffchaff, 4 Tree Pipit, 2 Wheatear, 3 Goldcrest 10 Siskin, and a moderate passage of Swallow, House Martin and Sand Martin off the Welsh coast
15th September
Brean Down: 9 Raven, 12 Siskin, 1 Grasshopper Warbler, 1 Tree Pipit, 10 Chiffchaff, 7 Wheatear, 1+ Willow Warbler, 20 Meadow Pipit, 200 Goldfinch. Also on Brean Down per A.Hockey: 20 Wheatear, 100+ Meadow Pipit, Garden Warbler, steady passage of Swallow including some Sand Martin. A Ring Ouzel also seen at Brean village.
Weston STW: The Grey Phalarope
14th September
Weston STW: 1 Grey Phalarope, 1 Black Tern
Sand Point: 1 Little Gull
13th September
Brean Down: 6 Manx Shearwater, 1 Fulmar, 1 Gannet, 3 Harbour Porpoise
Anchor Head: Per B.Blake 1 Grey Phalarope, 4 Manx Shearwater, 1 Fulmar
Uphill: 1 Grey Phalarope
12th September
Sand Point: 1 Arctic Skua, 1 Grey Phalarope, 1 Manx Shearwater, 1 Fulmar, 2 Gannet
Uphill: 3 Arctic Tern
Brean Down: 1 Sabine's Gull, 1 Razorbill, 1 Shag, 1 Fulmar, 1 Gannet, 20 Kittiwake
Weston STW: 1 Black Tern
10th September
Sand Bay: 1 Sabine's Gull
9th September
Sand Bay: 1 Sabine's Gull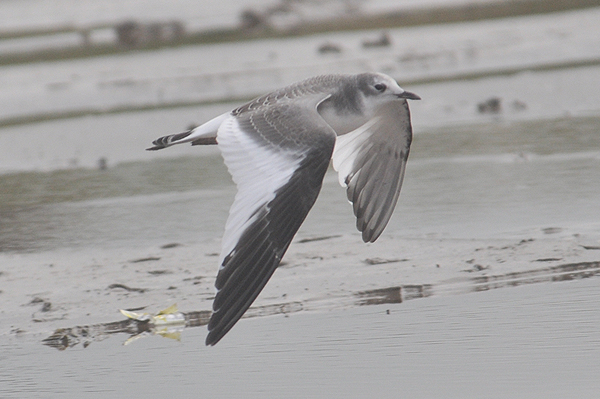 Sabine's Gull
8th September
Axe Estuary: 1 Sandwich Tern
Sand Bay: 1 Sabine's Gull (N.Workman)
Weston STW: 1 Grey Phalarope
2nd August
Garden: Oxyptilus laetus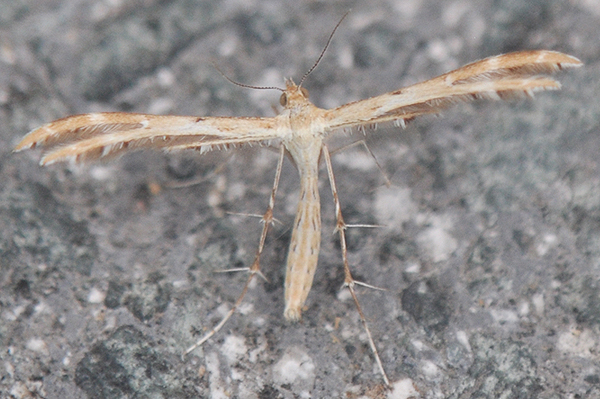 Oxyptilus laetus
27th July
Christon Plantation: Antler
23rd July
Brean Down: Dark Green Fritillary
18th July
Sand Point: 1 Arctic Tern
12th July
Garden: 2 Small Marbled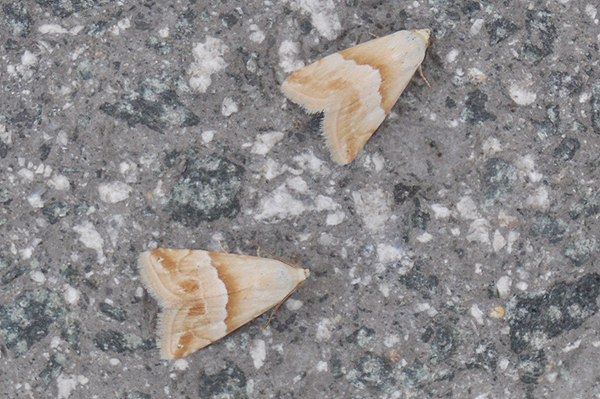 Small Marbled
11th July
Crook Peak: Mere Wainscot and Olive
4th July
Garden moth trap: Small Ranunculus
1st July
Garden moth trap: Bilberry Tortrix Aphelia viburnana
28th June
Garden: 1 Small Marbled
8th June
Garden moth trap: Rannoch Looper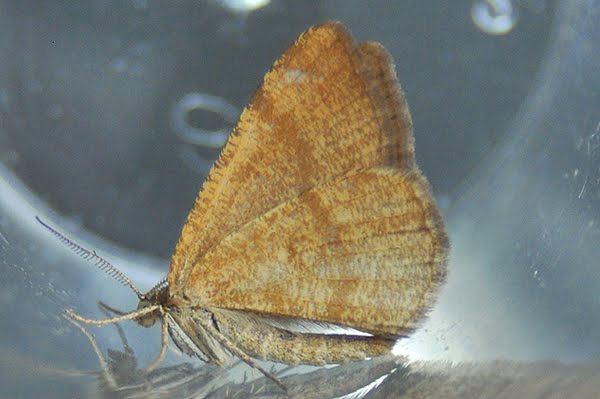 Rannoch Looper
2nd June
Garden moth trap: Coleophora adjunctella
29th May
Garden moth trap: Argyresthia cupressella and Larch Pug
26th May
Sand Point 9:40 to 12:20: 45 Fulmar down, 45 Gannet down, 240 Manx Shearwater down, 1 Great Skua up, 2 Storm Petrel up and a Guillemot up.
22nd May
Sand Point: Per P.Gregory sea watch 8:30 to 11:30 180 Manx Shearwater, 49 Gannet, 4 Fulmar, group of 5 Guillemot, Storm Petrel, Kittiwake, Arctic Tern and skua sp prob Pomarine.
9th May
Weston: Hoopoe flew from trees along the edge of Bushacre Business Park, Locking Road at 08.45hrs. It flew towards the football pitch but suitable habitat is on both sides of the path plus a Horse Paddock opposite the garage. Grid ref: ST341617
Sand Bay/Point: All per B.Blake 9 Whimbrel, 10 Ringed Plover, 8 Dunlin, 2 Reed Warbler, 1 Wheatear in the bay and 3 Common Scoter on a sea watch from the point.
3rd May
Garden moth trap: Yellow Belle and Broken-barred Carpet new for garden. Plutella xylostella the only migrant caught. A depressarinae sp caught TBC. Other NFY's were Garden Pebble and Peppered Moth.
2nd May
Sand Bay: A Kentish Plover on the tideline with c.10 Dunlin and 10 Ringed Plover. Also 1 Greenshank, 2 Bar-tailed Godwit and 2 Grey Plover. Whimbrel numbers around 15 birds. Alabonia geofrella on the wing this evening.
Brean Down cove: 300 terns involving Common, Arctic and Black all showing at close range on this evenings high tide.
Sand Point: All per A.Hockey Ring Ouzel, Redstart, Tree Pipit, Common Sandpiper. 3 Whimbrel and 12 small waders over. Steady stream of Swallows and House Martins with the odd Sand Martin and Swift.
Anchor Hd per P.Gregory: 3 Close Arctic Tern, c.70 distant Commic Tern, 17 Barwit, 5 Grey Plover, Common Sandpiper, c.20 BHGull, 2 Mute Swan.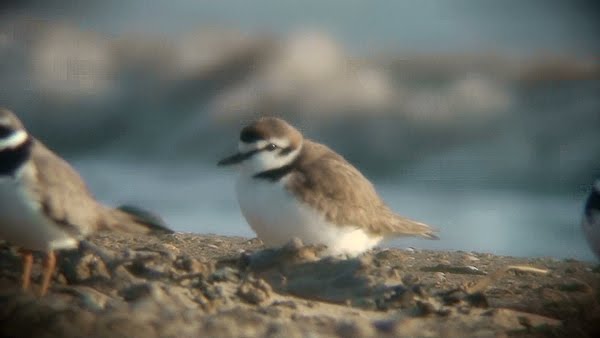 Kentish Plover Sand Bay 2nd May 2011
29th April
Garden moth trap: New for year were White Colon, Swammerdamia pyrella, Vine's Rustic, Puss Moth, Setaceous Hebrew Character and Sycamore. White-letter Hairstreak larva found in Weston Woods.
9th April
Brean Down: Bright sunny cloudless day with a barely noticeable SE breeze. No vismig this morning but plenty of night migrants on the down: 7 Grasshopper Warbler, 5 Whitethroat, 2 Common Redpoll, 4-5 Redstart, 1 Pied Flycatcher and 10 Wheatear. 4 Common Scoter in Weston Bay 3M + 1F.
Sand Point: All per P.Gregory and B.Blake 3 groppers, 4 redstart, 3 whitethroats, merlin, 15+ willow w, 30+ chiffs, no hirundines. Also a Tree Pipit and a Yellow Wag.
Garden Moth trap: 1 Shoulder-stripe my 16th NFG this year.
Sand Point moth trap: 1 Dark Sword-grass and an interesting tort not id'd yet were the only highligths of a 2 hour trapping session last night.
6th April
Brean Down: 5 Grasshopper Warblers and a fall of Willow Warbler, Chiffchaff and Blackcap noted. 100 Woodpigeon and a trickle of Swallows through.
Garden moth trap: Diamond-back Moth Plutella xylostella the first migrant of the year. One of 10 micro species caught last night. NFG was Mompha subbistrigella. On the macro front Common Pug and Pale Mottled Willow NFY.
27th March
Brean Down: 1 male Black Redstart, 1 male Ring Ouzel, 1 House Martin, 2 Swallow, 1 Willow Warbler, 5 Chiffchaff, 10 Wheatear, 12 Siskin, 2 Redpoll, 200 Meadow Pipit, 10 alba wagtail, 30 Woodpigeon, 50 Goldfinch, 20 Linnet. At least 42 larval web of Brown-tail
26th March
Brean Down: 8mph northerly wind with visibility down to 2 miles. Combined reports with P.Gay and myself: 1 Ring Ouzel, 1 Firecrest, 6 Common Scoter past, 17 Redpoll, 10 Sand Martin, 3 Willow Warbler, 10 Chiffchaff, 11 Wheatear, 2 Blackcap, 300 Meadow Pipit, 1 Stock Dove, 1 Golden Plover over NW, 1 Little Owl, 30 Woodpigeon N, 5 Siskin, 2 Brambling and a Harbour Porpoise.
Sand Point: Per P.Gregory and N.Workman: 1 Swallow, 9 Wheatear, c10 Chiffs, Merlin, Sparrowhawk north, 1 Golden Plover, 2 Stonechats, steady passage of Meadow Pipits.
Weston Airfield: 3 Wheatear and a handful of Willow Warbler and Chiffchaff and Eriocrania sangii
24th March
Weston Airfield: Orange Underwing at lunch time flying at the tops of Birch/Sallow.
21st March
Last years reared Small Eggar emerged yesterday.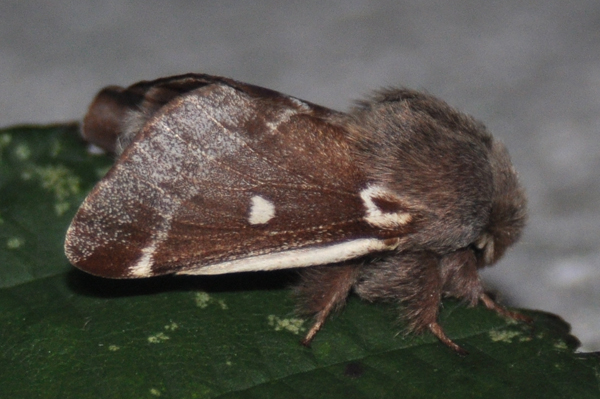 Small Eggar
18th March
Garden moth trap: Another successful overnight trapping with another NFG a Satellite. The rest consisted of 2 Early Grey, 5 Common Quaker, Hebrew Character and Clouded Drab.
17th March
Garden moth trap: Oak Nycteoline (NFG), 2 Double-striped Pug, 3 Common Quaker, Early Grey, Hebrew Character.
12th March
Brean Down: 10mph SSE wind. A mini fall recorded today with northerly vismig and summer migrants arriving after 9am. 2 Wheatear, 4 chiffchaff, 4 sand martin, 12 stonechat (9 males), 2 golden plover, 25 Alba wagtail, 2 grey wagtail, 3 skylark, 5 siskin, 50 goldfinch.
Sand Bay: 2 Wheatear (P.Gregory)
Weston: Red Kite Junc 21 after mid-day (S.Matthews)
Garden moth trap: 4 common quaker and a worn depressaria daucella.
10th March
Anchor Hd: 17mph westerly wind. Sea watching between 8:10 and 9:40 produced 217 Kittiwake (flocks of 2,90,125) up channel, 6 Gannet (1 down 5 up channel), 5 Fulmar (2 down 3 up), 4 BHG up, 1 Common Gull down, 100 Herring Gull west, 90 LBBG west.
Garden moth trap: 1 Grey Shoulder-knot NFG (new for garden).
9th March
As high pressure drifted towards central Europe, light southerly winds produced ideal conditions for some bird movements yesterday. The Netherlands had some impressive movements with 6,200 Cranes at De Groote Peel and 19,000 Lapwing at Noordkaap.
Brean Down: 13mph westerly wind. All heading west 1,000 Herring Gull, 400 LBBG, 8 Meadow Pipit, 6 Alba wagtail and 5 Stock Dove. The gulls were still streaming through when I left. Weston woods moths: A Satellite and 5 Small Quaker were new for the year.
6th March
Sand Bay: This evening 27 Grey Plover, 200 Dunlin and 3 Knot. Also several Curlew heading up river.
Weston woods moths: 6 Dotted Border, 2 March Moth, 1 Pale Brindled Beauty, 1 Hebrew Character
Garden Moth trap: 1 Hebrew Character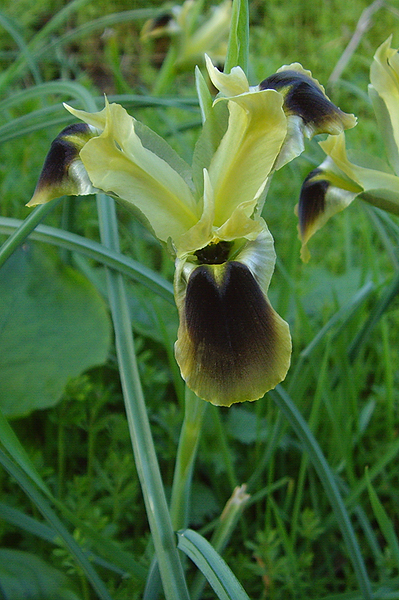 Snake's Head Iris Hermodactylus tuberosus Sand Point 6th March 2011
26th February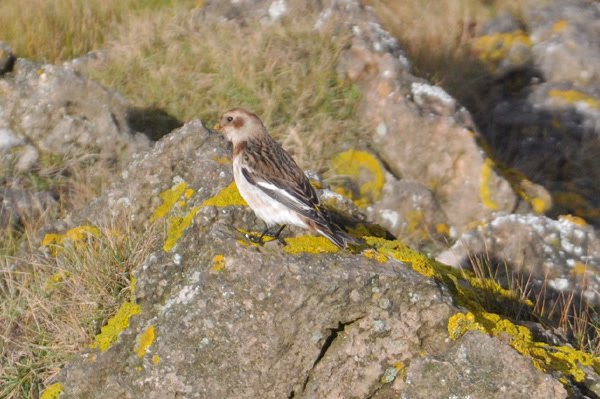 Snow Bunting Plectrophenax nivalis Brean Down 26th February 2011
Brean Down: Good passage of gulls this morning. In an hour and a half between 8:30 and 10:00 2,000 Herring, 1,100 LBBG, 3 GBBG, 50 BHG and 3 Common Gull. Also heading NW were 30 Wigeon. Amongst the gulls in the fields along Weston Rd a 2nd winter Med Gull present. Highlight of the day a Snow Bunting at the fort
Axe Estuary: 2 Black-tailed Godwit, 5 Grey Plover, 1 Knot, 15 Ringed Plover, 800+ Teal.
Woodspring Bay: A dozen Avocet (P.Chapman).
25th February
A new garden moth from last nights catch, a Acleris schalleriana bringing the garden life list to 327. 3 Common Quaker also in the garden trap. The Agonopterix heracliana was in the car so must have come from Weston Woods monday night trapping.
24th February
Weston STW: Adult winter Med Gull on UV pools this afternoon and then flew south.
Brean Down: 1 Firecrest (B.Montgomery)
22nd February
A series of Atlantic fronts continue to move westwards over the UK bringing mild and wet weather. Little wind is causing the cloud base to drop to ground level this morning.
Sand Bay: 1 Brent Goose, 1 Sanderling, 1 Knot, 35 Dunlin, 3 Bar-tailed Godwit, 2 Black-tailed Godwit, 17 Golden Plover (flying north). Plenty of gulls moving west over head involving BHG, LBBG as well as Herring. A male Stonechat in the bay is the first for the year in Weston.
1st February
Weston Woods Moths: 1 Pale Brindled Beauty, 1 Mottled Umber, 5 Chestnut, 4 Winter Moth.
29th January
Brean Down: 1 Grey Seal in waters south of the fort. Mute Swan herd up from last weeks 45 to 60.
Axe Estuary: 51 knot, 2,000 teal (numbers here were considerably less during the week. They sometimes sit half a mile out to sea in Weston bay when flushed), 20 snipe.
Weston bay: Gull roost difficult to count but estimated numbers 5,000 Black-headed Gulls, 3,000 Herring Gulls, 1,500 Common Gulls, 300 Lesser Black-back Gulls. In the flock a bird similar to the one on the end of Brean Down with a dark hood and breast ending with a breast band. In flight it had a white tail with a dark band which was thicker towards the outer edge of the tail. The upper wing pattern was also distinctive with contrasting pale grey inner primaries to the darker outer primaries. The bill was pinkish with a dark tip. The mantle was darker having a more glossy look. My conclusion so far is second winter argentatus.
25th January
Brean Beach: 5,000+ Dunlin, 50 Sanderling, 150 Oystercatcher.
Last night a Black Redstart roosted at Warren Farm in the reception building roof.
23rd January
Sand Bay all per P.Gregory: c60 Curlew, 11 redshank, 2 grey plover, 1 Barwit, c12 snipe, 1 jack snipe, 1 water rail, c20 skylarks, c10 reed bunts and 2 GBB Gulls.
Weston STW: 450 Redshank, 80 Dunlin, 1 Knot River Axe: 12 Goosander (2 Drakes), 1 Green Sandpiper
Weston: 3 Waxwing still at Appsley Close
Bleadon: 3+ Woodcock
22nd January
River Axe: 5 Goosander
Axe Estuary: 2,000 Teal Weston STW: 75 Pochard
16th January
Anchor Head: No sea birds this morning but a good southerly passage in a 13mph SSW wind. Heading south were: 2,000 Dunlin, 400 Herring Gull, 20 Lesser Black-back Gulls, 30 Common Gull, 25 Wigeon, 3 Teal, 50 Knot and 200 Black-headed Gull. A further 80 BHG flew north close in but could have been local movements.
Weston: 3 Waxwing still at Appsley Close (P.Gregory)
15th January
Weston: 3 Waxwings still at Appsley Close mid-day, an adult and 2 immatures.
11th January
Weston: 4 waxwings on house of 1 Appsley Close at 9:30am and feeding on Rowan in back garden.
9th January
Weston STW: 23 Golden Plover, c.1,500 Woodpigeon, 780 Lapwing (using dot count), 30 Stock Dove
Anchor Head: 2 Turnstone, 7 Purple Sandpiper, 1 female Blackcap.
Sand Bay: 1 Water Pipit, 1 Knot, 1 Black-tailed Godwit, 4 Bar-tailed Godwit, 4 Grey Plover. A female Pheasant has been flushed from the marsh a couple of times this year.
Weston: 12 Waxwings commuting between trees on the playing field by Wigmore Gardens and Appsley Close (P.Gregory).
8th January
Brean Down: A moderate westerly wind this morning starting off cloudy but clearing by late morning. Teal numbers up slightly with 1,950 present. The count was confirmed using photos and dot count software. Nearly all thrushes have gone from the down with just 2 Song Thrush and a Fieldfare seen. Predictably, gull passage has started with a moderate 130 Herring Gulls heading west. Axe Estuary: c.3,000 Dunlin, 1 Sanderling. Weston: 2 Waxwing remain at the main Tesco in Weston town.
7th January
Weston: 11 Waxwings still present at the Tesco car park in Weston town.
5th January
Anchor Head: 2 Turnstone, 4 Purple Sandpiper, 4 Great Black-back Gull
Weston: 1 Waxwing calling behind Bushacre Business Park. 12 Waxwings reported at the main Tesco car park in Weston (P.Marsh, SOS)
2nd January
Banwell Estuary: 3 Dark-bellied Brent Geese (later seen at Dowlais Clevedon)
Sand Bay: 15 Grey Plover, 1 Bar-tailed Godwit, 5 Knot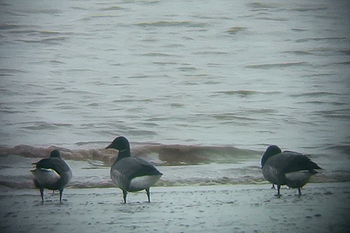 Brent Geese Branta bernicula Banwell Est 2nd January 2011
1st January
Sand Bay: 1 Water Pipit (B.Blake)