Goa bird trip report - 4th to 19th February 2011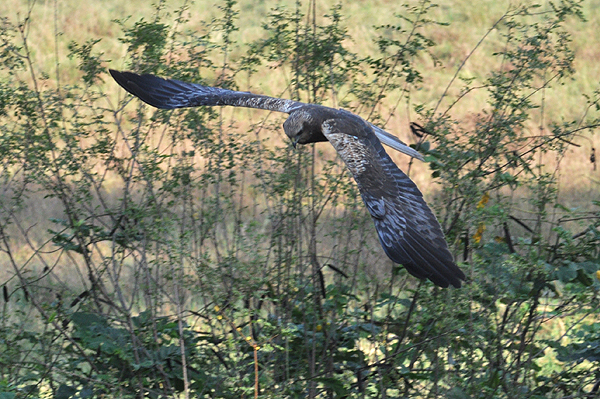 Marsh Harrier Nerul fields

Preparations for the trip started off with acquiring a Visa. Be wary, visa applications have changed since 23rd November 2010 and old information is still on the internet. You need to go to http://in.vfsglobal.co.uk/. If taking it in person, make sure you find out which is your office as there are three options and you can only use one. It's either London, Birmingham or Edinburgh (I've since found out that there is one in Glasgow). You won't be able to wait for the visa either, it takes 3 days. Unknowingly we went to Birmingham but were fortunate enough to be able to give a local address. The office here is: 20-21, Pemberton Street, Jewellery Quarter, Hockley, Birmingham B18 6NY.

Malaria: Sorting out malaria tablets was straight forward. I used Malarone in the past and went for this option again. They are expensive costing £60 for a 2 week stay. They have to be taken 2 days before and a week after. A cheaper way of doing it is to buy as few as possible to cover the two days before and buy the rest at a chemist whilst there. A two week course is 1200 rupees, about £17.00.
Flight: The flight took 8.5 hrs there and 10.5 hrs back on a Boeing A330 which gave sufficient leg room for a 6ft person. We were told that there would be no inflight entertainment so I bought a non-fiction book which happened to be an excellant read "Lost in the Jungle" by Yossi Ghinsberg.
Transport around Goa was by scooter. Again the hire company just wheeled it on the road and handed me the keys. You may want to check here. The cost was 200 rupees, £3 a day.
Sites visited on this trip: Arpora Pools, Arpora Hills, Saligao Zor, Siolim, Nerul
Locations in Google maps:
Arpora Pools 15.558263,73.763752
Arpora Hills 15.574531,73.765168
Saligao Zor 15.537053,73.78581
Siolim 15.630104,73.777056
Nerul 15.513814,73.774395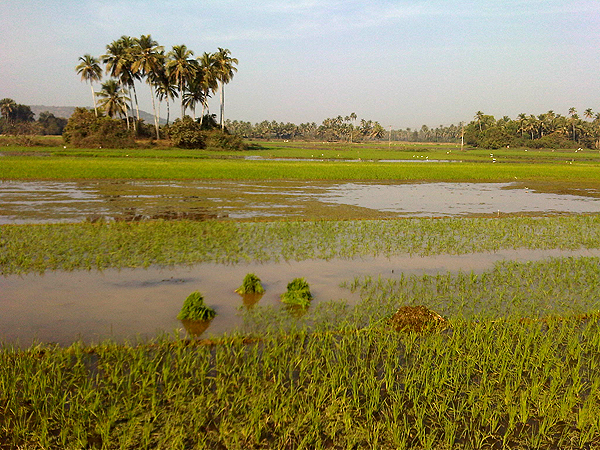 Siolim Rice fields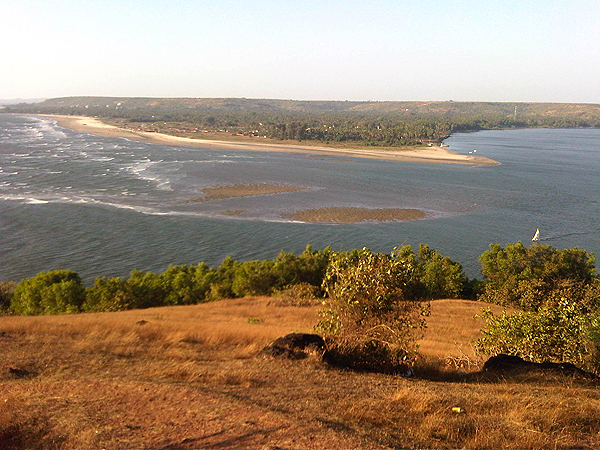 Morjim Beach at low tide viewed from Chapora Fort .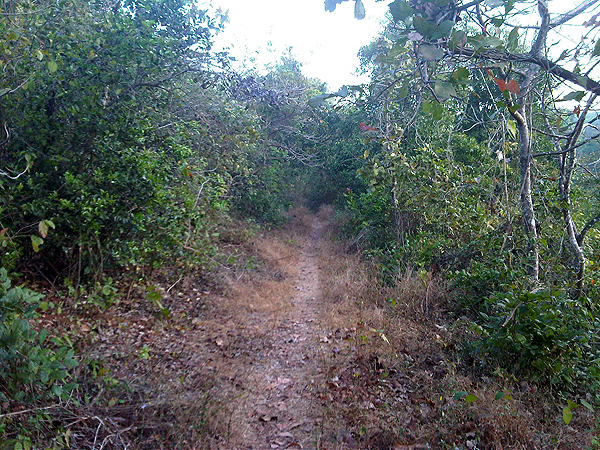 Arpora Hill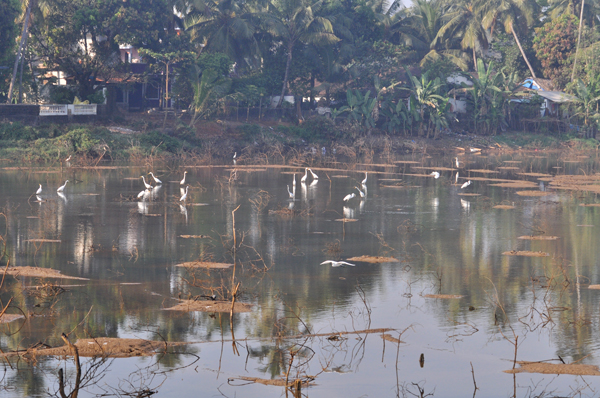 Arpora Pool
Guides: I used Santosh this time and found him to be as good as Raymond.
Santosh tel: 9881180424
Insects: I ran a 15W BLB from the balcony which lasted for 7 days until I managed to smash it by tripping over the mains cable. Not many moths came to the light but it wasn't a great time of year. Supposedly the monsoon time is best.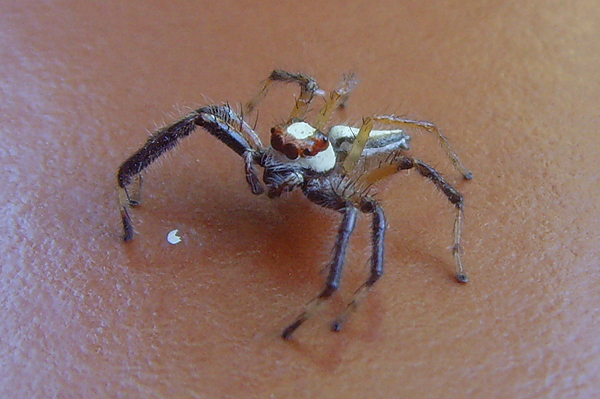 Two-striped Jumping Spider Victor Exotica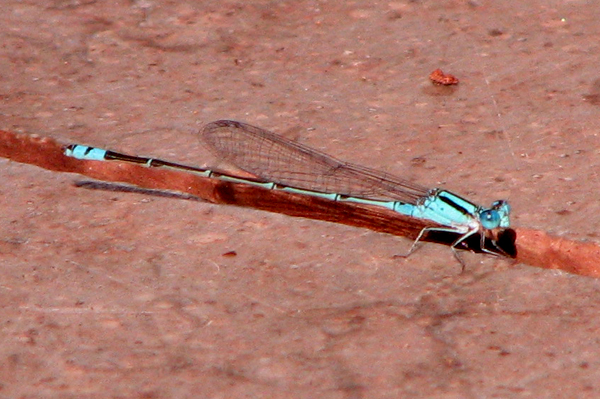 Unidentified Damselfly Victor Exotica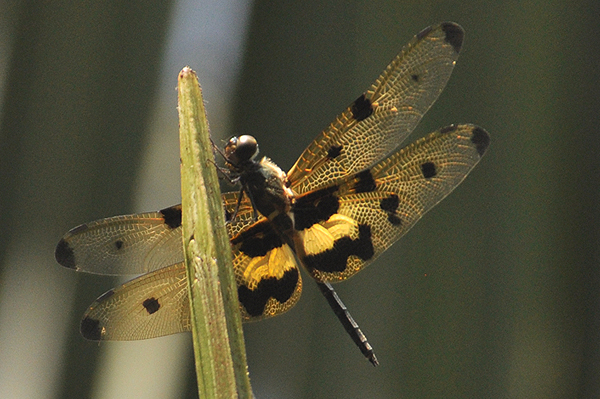 Rhyothemis variegata Victor Exotica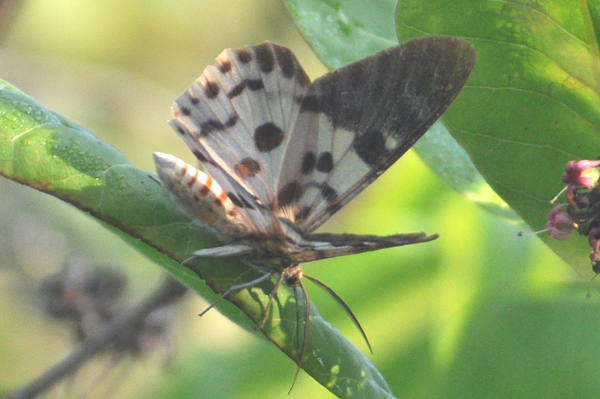 Tiger Moth (A day flying moth) Arpora Hill

Bird Species List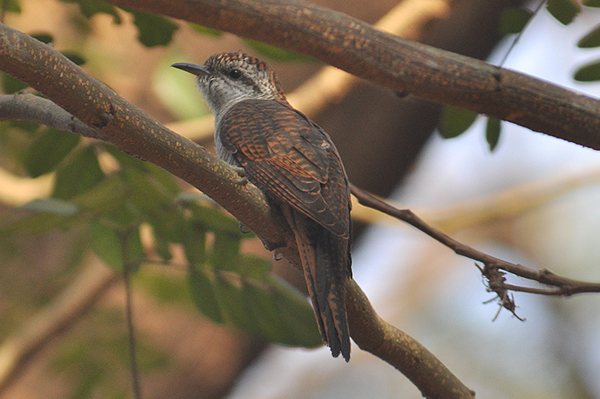 Banded Bay Cuckoo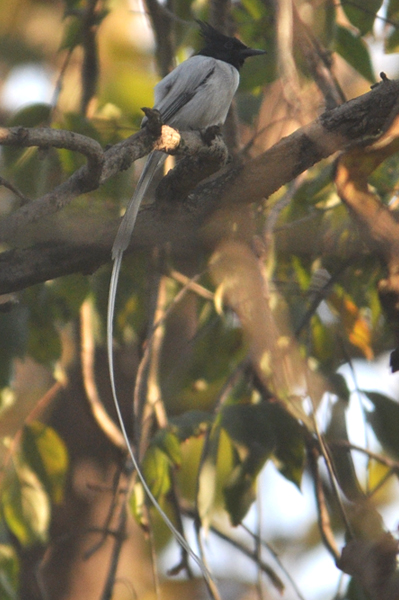 Asian Paradise Flycatcher
Alexandrine Parrot - Several at Arpora Pool and 1 over Candolim
Ashy Prinia - Fairly common
Ashy woodswallow - 4 at Nerul roosting every evening and 1 between Arpora and Saligao
Asian Koel - Common
Asian Palm Swift - Singles at Morjim, Candolim
Asian Paradise-flycatcher - Thinly spread throughout
Banded Bay Cuckoo - 2 at Aguada
Barn Swallow - Common
Baya Weaver - Common
Bay-backed Shrike - 1 at Morjim and Saligao
Black kite - Common
Blackbird - Arpora, Aguada
Black-headed Gull - Morim
Black-headed Oriole - 1 at Arpora and several sightings at Aguada
Black-lored Tit - 1 at Candolim
Black-naped Monarch - Several at Arpora, Saligao, Aguada
Black-headed Ibis - 1 at Nerul and Siolim
Black-shouldered Kite - 2 at Nerul, 1 at Morjim
Black-winged Stilt - 5 Siolim, 3 Arpora
Blue Rock Pigeon - Common
Blue-tailed Bee-eater - 2 at Siolim, Several at Candolim
Blyth's Reed warbler - Common
Braminy Kite - Common
Braminy Starling - 1 at Morjim
Bronzed Drongo - 1 at Arpora
Bronze-winged Jacana - 2 Arpora, 1 Nerul
Brown-headed Gull - Many at Morjim
Brown Shrike - 1 at Nerul
Cattle Egret - Common
Chestnut-tailed Starling - Several at Aguada
Common Buttonquail - 1 at Morjim
Common Lora - Arpora, Aguada, Saligao
Common Myna - Arpora
Common Sandpiper - Arpora, Nerul
Common Snipe - Siolim
Common Tailor Bird - Common
Common Woodshrike - 1 at Arpora
Coppersmith Barbet - Aguada
Crimson Sunbird - Candolim, Saligao, Aguada
Cuckoo - Nerul
Curlew - Morjim
Curlew Sandpiper - Nerul
Golden Oriole - Common
Great White Egret - Common
Greater Coucal - Common
Greater Flameback - Morjim, Arpora
Greater Spotted Eagle - 1 at Siolim
Green Sandpiper - Nerul, Siolim
Green Warbler - Common
Greenshank - Siolim, Arpora
Grey Heron -
Grey-breasted Prinia - Common
Grey Wagtail - 1 at Siolim
Grey-headed Bulbul - 1 at Arpora
Gull-billed Tern - Morjim
Heuglin's Gull - Morjim
House Crow - Common
Indian Peafowl - Aguada
Indian Pitta - Arpora
Indian Pond-Heron - Common
Indian Roller - 2 at Saligao
Jerdon's Nightjar - 1 rooting at Arpora
Jungle Myna - Common
Kentish Plover - Morjim
Kingfisher - Common
Large Cuckoo-shrike - 1 at Aguada
Lesser Crested Tern - Morjim
Lesser Pied Kingfisher - 1 at Siolim and Arpora
Little Cormorant - Common
Little Egret - Common
Little Green Heron - 1 at Arpora and Aguada
Little Stint - Arpora
Little Swift - Recorded throughout but Nerul the most reliable site
Little-ringed Plover - Nerul
Long-tailed Shrike - Common
Malabar Crested Lark - Nerul
Marsh harrier - Nerul
Marsh Sandpiper - 6 at Arpora
Open-billed stork - 3 Nerul, many at Siolim
Orange-breasted Green-Pigeon - 1 at Aguada
Orange-headed Thrush - Aguada, Arpora
Oriental Honey Buzzard - Candolim, Arpora, Saligao
Oriental Magpie-robin - Common
Osprey - Arpora
Pacific Golden Plover - 10 at Arpora
Paddyfield Pipit - Common
Pied Bushchat - Nerul, Morjim
Pin-tailed snipe - Siolim, Nerul
Plum-headed Parakeet - Candolim, Aguada
Puff-throated Babbler - Saligao
Purple Heron - Fairly common throughout
Purple Sunbird - Common
Purple-rumped Sunbird - Common
Red-rumped Swallow - Common
Redshank - Common
Red-vented Bulbul - Arpora, Aguada
Red-wattled Lapwing - Common
Red-whiskered Bulbul - Common
Richard's pipit - Nerul
Rose-ringed Parakeet - Nerul
Rosy Starling - Common
Shikra - Nerul
Small Bee-eater - Common
Small Minivet - Arpora, Saligao, Aguada
Small Pratincole - Siolim
Spotted Dove - Common
Spotted Munia - Candolim
Spotted Owlet - Morjim, Arpora
Stonechat - Nerul
Streak-throated Swallow - 1 at Siolim
Tawny-bellied Babbler - 2-3 at Saligao
Temminck's Stint - 5 at Arpora
Thick-billed Flowerpecker - 1 at Aguada
Tickell's Blue Flycatcher - 1 at Aguada
Western Crowned warbler - 1 at Arpora
Western Reef-egret - 5 at Chapora fort, 1 at Aguada
White-bellied Drongo - 1 at Arpora
White-bellied Sea-eagle - 1 Candolim, 3 Aguada, 1 Morjim
White-breasted Kingfisher - Common
White-browed Bulbul - Common
White-browed Wagtail - Candolim
White-cheeked Barbet - Common
White-rumped Munia - Common
White-throated Fantail - 1 at Aguada
Wood Sandpiper - Common
Yellow Wagtail - Siolim
Yellow-legged Gull - Morjim
Total = 126