Gran Bahia Principe, Mexico 31st January to 13th February 2014

Mexico bird photos 1 | Mexico bird photos 2 | Mexico bird photos 3 | Mexico bird photos 4

2014 saw my first trip to Mexico for my annual "non-birding" holiday with my wife booked through First Choice. The birding consisted of daily pre-breakfast rounds of the resort followed by quality time with my wife drinking, eating and recharging my batteries at the Gran Bahia Principe Akumal resort in Mexico. To get rid of any confusion, the Gran Bahia Principe is actually 4 resorts in one consisting of Principe's: Akumal, Coba, Tulum and Sian Ka'an. All four are accessible by club cars that run every 15 minutes. If you go all inclusive you can eat at all except the Sian Ka'an. I now take virtually all of my holidays as non-birding breaks with my wife so if you are like me and holiday with your non-birding partner then this trip is recommended. With just 2.5 to 3 hrs birding before breakfast every morning I was able to notch up 97 species in two weeks and this could easily have been more had I been able to identify everything I saw and/or visited during the migration period.
Visiting if February means that it's not possible to bird much before 6am and with the club cars not running until 7am it meant getting to the best area's on foot. The bird activity dropped off by 9am perhaps due to the heat so I didn't feel like I was missing much after breakfast. The bird activity picked up late afternoon around 5pm so this was a good time to visit the watch tower at Coba not far from the lobby. On arrival I asked for a second or third floor apartment overlooking the trees on the edge of the resort which was granted with no fuss by the reception staff. It's worth noting that on the first floors there are screens put up maybe to reduce the amount of insects attracted to the lights in the evening so viewing the adjacent woods will be restricted? From my room in block 75 I left at first light around 05:40hrs for a 25 minute walk to reach the golf course area's where the best birding was.
Photographic equipment: I used two camera's, a Nikon D7100 with 70-300mm lens plus a Canon SX50. Initially the Canon was meant to be a backup but found it was so good I brought it with me every day to use for long range photography because it's zoom range was equivalent to a 600mm.
Resort Map: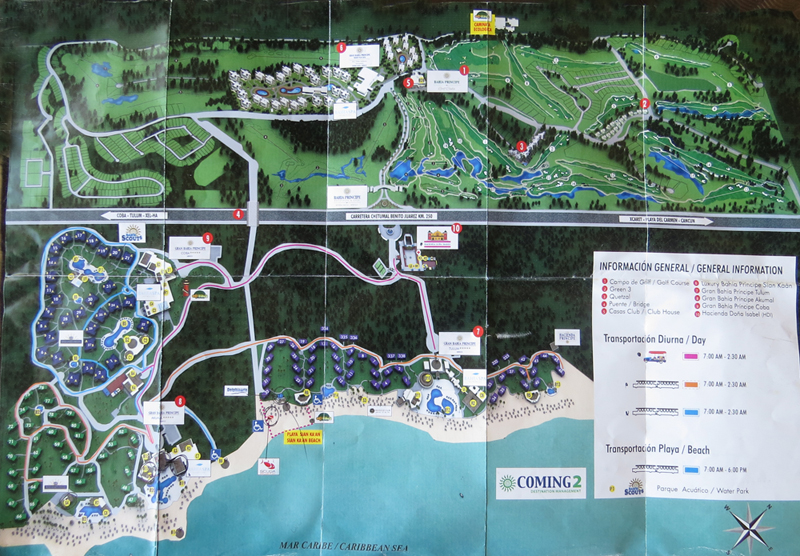 The resorts GBP Coba, Akumal and Tulum are all on the beach side of the main road and the Sian Ka'an resort and Golf Course are on the opposite side of the road.
Full species list:
1. Great Kiskadee - Common
2. Yellow-throated Warbler - Common
3. Yellow Warbler - Common but not as common as Yellow-throated Warbler
4. White-winged Dove - Common
5. Great-tailed Grackle - Common
6. Tropical Mockingbird - Common
7. Hooded Oriole - Several seen
8. Yucatan Vireo - All around the resort but sparsely spread
9. White-eyed Vireo - Common
10. Tropical Kingbird - Common
11. Laughing Gull - Always seen around the beach
12. Brown Pelican - Always seen around the beach
13. Sanderling - Always seen around the beach
14. Turnstone - Always seen around the beach
15. Royal Tern - Always seen around the beach
16. Cinnamon Hummingbird - Daily to flowers on the beach side of Akumal lobby
17. Turkey Vulture - All around the resort
18. Hooded Warbler - 4 seen around the resort
19. Ring-necked Duck - Daily at the golf course
20. Magnificent Frigatebird - Daily heading south along the beach the first week but infrequent the second week
21. Indigo Bunting - Occasionally seen around the resort perhaps 5 birds in total
22. Red-billed Pigeon - small parties around the Sian Ka'an area
23. Yucatan Woodpecker - Common
24. Common Yellowthroat - Common
25. Rose-throated Becard - Singles often seen in the Sian Ka'an area
26. Killdeeer - Around the golf course and hotel entrance
27. Spotted Sandpiper - Around the golf course
28. Painted Bunting - By the bridge, golf course and Sian Ka'an area
29. American Coot - Golf course
30. Little Blue Heron - From the watch tower at dawn and dusk roost
31. Least Grebe - Golf course
32. Singing Blackbird - Whole resort
33. Mangrove Vireo - Whole resort
34. Tropical Gnatcatcher - One bird at Sian Ka'an
35. Black-throated Green Warbler - 3 birds around Sian Ka'an
36. Summer Tanager - 4 birds around Sian Ka'an
37. Blue Grosbeak - small parties located around roadsides at Sian Ka'an
38. Ridgway's Rough-winged Swallow - Whole resort
39. Double-crested Cormorant - 1 over resort
40. Orange-crowned Warbler - 1 at Sian Ka'an
41. Yellow-backed Oriole - Small parties around whole resort
42. Altamira Oriole - Mainly around Sian Ka'an
43. Black Catbird - 1 seen well at Sian Ka'an but probably more if I knew the call
44. Gray Catbird - Several heard around Sian Ka'an
45. Clay-colored Robin - 2 around Sian Ka'an
46. Rose-breasted Grosbeak - 3 together around Sian Ka'an
47. Cardinal - 1 seen and probably another 2 heard around Sian Ka'an
48. Osprey - 1 at the beach
49. Black-cowled Oriole - 1 near the Hacienda
50. Palm Warbler - Several around Sian Ka'an
51. Least Sandpiper - Several on golf course and resort entrance including a flock of 16
52. Pied-billed Grebe - On golf course pools
53. Social Flycatcher - Whole resort
54. Lineated Woodpecker - 4 around the whole resort
55. Yellow-rumped Warbler - Small falls (up to 30 birds) mainly around the golf course
56. Vaux's Swift - Whole resort
57. Black-headed Trogon - 3 parties heard in the Sian Ka'an area
58. Turquoise-browed Motmot - 4 birds found including a pair by the golf course
59. Squirrel Cuckoo - 3 in the Sian Ka'an area
60. Mexican Emerald - 1 at Sian Ka'an
61. Tri-colored Heron - 1 from the Coba viewing platform leaving the roost
62. Golden-olive Woodpecker - 1 near the golf course
63. Blackburnian Warbler - 1 at Sian Ka'an
64. Black and White Warbler - 1 at Sian Ka'an
65. Cave Swallow - An influx of many on one day around Sian Ka'an
66. Tree Swallow - 1 at Sian Ka'an
67. Groove-billed Ani - 1 along the beach
68. Buff-bellied Hummingbird - Mainly around Sian Ka'an
69. Brown Jay - 1 at Sian Ka'an
70. Black Vulture - Most around Sian Ka'an
71. Collared Aracari - 2 at Sian Ka'an
72. Golden-fronted Woodpecker - 1 at Sian Ka'an
73. Yucatan Flycatcher - 1 at Sian Ka'an
74. Couch's Kingbird - Small no's around resort
75. Dusky Flycatcher - 1 at Sian Ka'an
76. Magnolia Warbler - Quite common around Sian Ka'an
77. Northern Waterhrush - 4 at Golf course
78. Blue-winged Teal - Several at Golf course pools
79. American Wigeon - 2 at Golf course pools
80. Redhead - 1 at golf course pools
81. Lesser Scaup - 1 at golf course pools
82. Lesser Yellowlegs - 1 at pools by golf course
83. Solitary Sandpiper - 4 at pools by golf course
84. Snipe - 1 at pools by golf course
85. Green Heron - 1 at golf course pools
86. Great Blue Heron - 1 at golf course pools
87. Yellow-throated Euphonia - 1 at golf course
88. Gray Flycatcher - 1 at golf course
89. American Redstart - 1 from Coba viewing platform
90. Ferruginous Pygmy Owl - 1 at Sian Ka'an
91. Purple Martin - 4 on wires at Sian Ka'an on one day
92. Blue Bunting - Small parties found along roadsides at Sian Ka'an
93. Gray Falcon - 1 over the golf course
94. Yellow-throated Vireo - 1 at Sian Ka'an
95. Red-throated Ant-tanager - 1 at Sian Ka'an and 1 at the golf course
96. Red-throated Tanager - 1 at Sian Ka'an
97. Lesser Greenlet - Call gave away the location of many in the Sian Ka'an area